The Ho Chi Minh City's Drama Theater has launched a project entitled "Children's Voice", which will be funded by The Swedish International Development Cooperation Agency (SIDA) until 2009.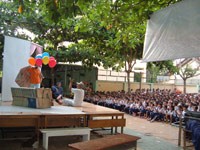 Hung Long Primary School's students of Binh Chanh District are enjoying a play.
SIDA will provide the HCM City's Drama Theater with VND700 million per year to organize free drama classes for disadvantaged children in the Ho Chi Minh City's remote areas.

The project aims to bring joys to disadvantaged children. The plays focus on themes such as gender equality and the effects that neglectful parents have on their children.

Since the project began at the beginning of April, plays have been presented in several districts including Tan Binh, Binh Chanh, District 2 and others.