The latest edition of the epic poem entitled Truyen Kieu (Tale of Kieu) was released by Tre Publishing House and the Association of Kieu Studies' document department on November 24.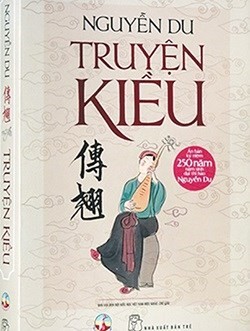 The new edition of Kieu has been printed on the epic poem Truyen soft paper and its illustrations have been collected from various ancient Kieu writings (Source: ongbachau.vn)
The new edition and a special version have been released to mark the 250th birth anniversary of celebrated poet Nguyen Du.
Printed in both Nom (ancient Vietnamese ideographic script ) and Vietnamese romanised script, along with modern–style annotations, the new edition is the brainchild of researchers, professors and poets from well-known universities and institutes of Hanoi.
In comparison with the ordinary Kieu version, more than 400 letters have been restored in the new copy, which also approaches the classic work with a modern interpretation.
The new edition has been printed on soft paper and the illustrations have been collected from various ancient Kieu writings.
In his 55 years of life, the great poet left a monumental legacy that includes three collections in Han (Chinese) script, totalling 250 poems in Thanh Hien Thi Tap (Poems of Thanh Hien), Nam Trung Tap Ngam (Various Poems) and Bac Hanh Tap Luc (Miscellaneous Writings in a Trip to the North), as well as the most well-known, the Tale of Kieu.
The 3,254-line classic verse novel written in "luc bat", the form that consists of alternating lines of six and eight syllables, a traditional Vietnamese verse form, is the most popular Vietnamese poem of all time and has inspired many generations.
It recounts the life, trials and tribulation of Thuy Kieu, a beautiful and talented young woman, who had to sacrifice herself to save her father and younger brother from prison. She sold herself into marriage with a middle-aged man, unaware of his profession as a pimp. He later forced her into prostitution, marking the start of a series of tragic events in her life.
Throughout the poem, Nguyen Du depicted the beauty of true love and loyalty, and the unyielding hope for justice.
The poetic masterpiece has spread its spirit and influences overseas, as it was published in 20 different languages worldwide.-VNA