Vietnamese fashion may be not compared with other countries. Now, the living standards are improving and people begin to care about what they wear. It is really a good sign for Vietnamese fashion industry and it also opens opportunities for Vietnamese designers.

Designer Ngo Thai Uyen: "I think that fashion is not a career, it is an industry".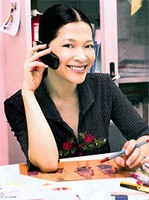 Designer Ngo Thai Uyen
Ngo Thai Uyen is a young Vietnamese designer, graduated from of Ho Chi Minh City University of Fine Arts. Uyen had won a prize on color selection at Singapore Fashion Connection 1997 when she was still a student.

She also owned a store on Dong Khoi Street, which she closed when she won a scholarship and took up her study at the Massachusetts College of Art. She chose the courses on cotton fibre and the language of vision to study.

"I think that the study is always necessary. In addition, these subjects are very interesting" said Uyen. " Not only they can be applied in fashion design, but also useful in other arts. They arouse my creativity. When designing a dress, we have to understand its material and know how to create our own material. This is an important area that Vietnamese designers have yet to grasp" she tried to explain.

Ngo Thai Uyen is a woman of strong personality, but full of new ideas, and most of her designs are very elegant and passionate, a close reflection of herself.


She was inspired by Vietnamese traditional materials that are eye catching for foreigners, so you can easily recognize her style among those of other designers. Her color schemes are also very specific.

Uyen is both a designer and an artist, she has carried out many domestic and foreign exhibitions. Besides, she used to be an assistant designer in the film "The quiet American", produced by director Philip Noyce in 1998.

Now, she is a long-term supplier for one of top fashion groups in the U.S. She entered the fashion world confidently by thousands of "made in Viet Nam" products.
She is the founder NTU Company, whose goal, among other things, is to take her brand name into the global market. What she has done is what many other Vietnamese women dream of.
Designer Kieu Viet Lien: "I am not good at business, and I am an emotional woman, so I think that this job suits me"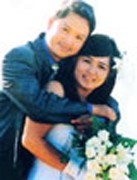 Designer Kieu Viet Lien and her husband, lawyer and film actor Thieu Anh Duong
After three years of study in Australia, she went to Canada for two years, then spent one year in Paris where she graduated as one of three excellent students.

Although she studied fashion in western countries, her style was far from westernized, in fact, it is still influenced by Vietnamese culture. "I am not an old-fashioned woman, but not too modern to accept a new culture" She says.

Returning to Viet Nam, she made a point of staying away from any fashion newspapers or magazines for a long time, for fear that she would be influenced by other foreign designers' patterns.

She always learns how to mix many colors harmoniously and seeks new materials. Her designs are usually based on the seasons.
Her dresses are usually designed in ivory, white or pale colors, and with eye catching curves, emphasizing the femininity of her style. Most of them are very simple and luxurious.


Her most favorite design is wedding dresses, which she is eagerly displaying to the public in her own bridal shop in Ho Chi Minh City. This is a place where many women can choose a suitable outfit for their most important day of their life

" the problem is not clients' demands, but agreement between two sides" she said. She wants to make a dress which satisfies customers' demand while showing her characteristics.
Designer Nguyen Quoc Binh : "Fashion is beauty. It helps people feeling more beautiful and confident in their life and work".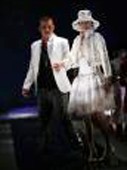 Designer Nguyen Quoc Binh (Left)
Nguyen Quoc Binh, 25, owns a boutique on Nam Ky Khoi Nghia Street with his own trade mark, "qb mode".
He was the winner of Viet Nam Collection Grand Prix 2000. He also won the prize for Special Producer at the Asia Collection Makuhari in Japan.

Binh took part in many domestic and foreign fashion shows. His outfits mostly are suitable for evening parties.
He is better known as the Vietnamese traditional embroidery, most of which are meticulously hand embroidered , using Vietnamese silk as his favorite material.

Besides, the color schemes are his strong point. People always marvel at the ways he mixes the colors. Binh used to tell AFP that he finds joys in mixing colours.


Ao dai, Vietnamese traditional dress, is also his favorite choice. It shows clearly the beauty of Vietnamese women's figure." That is why I am interested in it and want make it more beautiful, more pleasant to wear and easy to move", Binh said.

Binh comes from Ho Chi Minh City, in a family where nobody cares about fashion, but he got plenty of help from his relatives to develop his career.
Binh always works hard, thinking that it is the way he wants to thank people who supported him, and he expects to make his brand a household's name, well-known both at home and abroad.