"Tape That" group from Germany including three artists: Lawin Nicolas Michael Gerhard; Busch Stefan and MeiBner Stephan Walter is kicking off their tour around the world from December, 2016 to January, 2017 and Vietnam is one of their destinations. The tour aims to introduce the tape art, a very young art form in the world and completely new to Vietnamese people.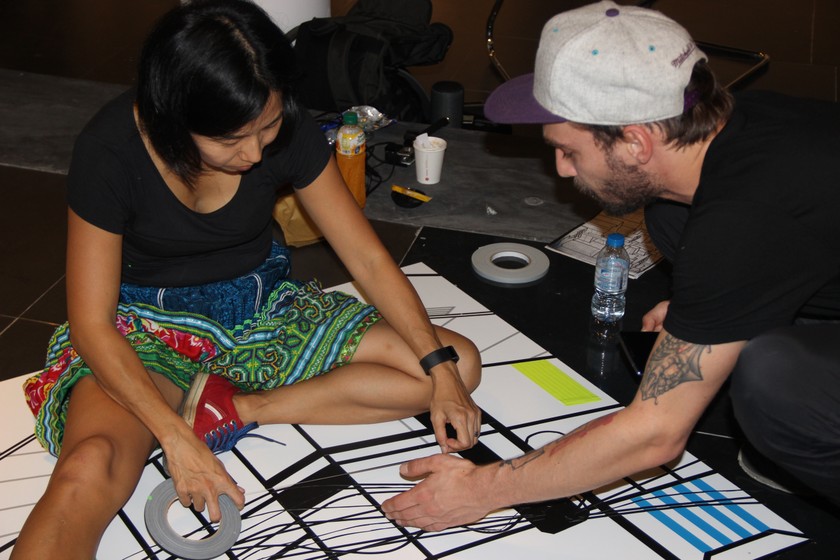 Tape That introduces tape art at a workshop in HCMC - Photo Hong Hanh
Michael Gerhard said "We think that tape art has not been known yet in Vietnam – just like everywhere else pretty much. It is a very young art form that is gaining more and more attention all over the world and we are convinced that the Vietnamese people will like it: Tape as a medium brings about a different approach to be artistically creative and fascinates most people when they see it.
The idea to create an artwork out of an everyday object that most people possess at home amazes us. While tape as a medium comes with some restrictions, e.g. mixing colors is not really possible, it opens up new opportunities, like making a perfect straight thin line that is 10m long".

"We never really know what to expect when we travel and teach art enthusiasts from different countries and cultures", added Stephan Walter. Everybody seems to have a lot of fun doing tape art!
After visiting Vietnam we will be working on various projects in Germany and internationally, e.g. in Saudi Arabia. We are also organizing an international tape art exhibition, the "tape art convention" which most likely be held in late 2017 in Berlin. Tape Artists from all over the world come together and exhibit different approaches to the medium and put a spotlight on tape art as an artform.


We probably still have not seen enough traditional Vietnamese art or culture to evaluate it, but the things that we have seen was really good. We hope that four day tour in Hanoi and HCMC will help us catch up more exciting things in the country.
Mr. Olaf Malchow, Deputy Consul General of the German Consulate General in HCMC said we are very happy to be the main organizer and financier for this event.

In fact, the tape artworks can be found in many places in the world, such as abandoned buildings, showrooms and galleries. "Tape That" has recently carried out many tape art projects nationaly and internationaly in the countries such as Spain, Qatar, Bulgaria, Cambodia, the England and Egypt.
On December 17, "Tape That" will have a live performance at 3A Station in HCMC. Yesterday, they presented in HCMC and organized a workshop at 3A Station (3A Ton Duc Thang, District 1).
Some activities at workshop held in HCMC on December 15 by Tape That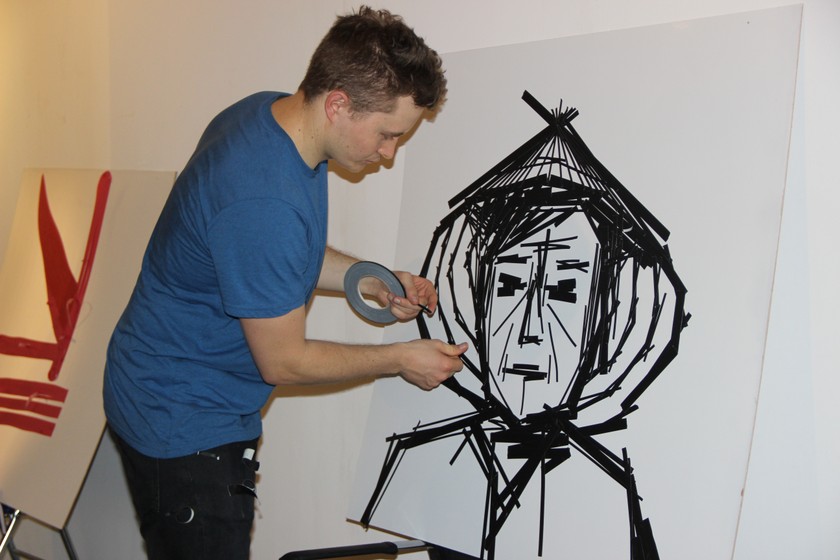 Photo: Hong Hanh