The annual "Taste of the World" food festival featuring Vietnamese and international cuisines will take place at Van Thanh Tourist Park in Ho Chi Minh City from December 5 to 7.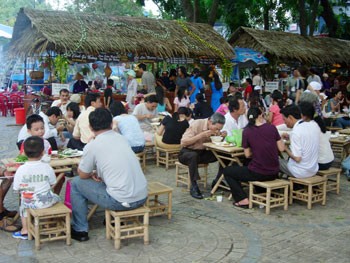 The annual "Taste of the world" food festival expects to attract a great number of local and foreign visitors. (Photo:Vu Khanh)
More than 20 restaurants in the city and hotels from 17 countries including Viet Nam will present hundreds of dishes.

The three-day event will also include cookery shows, traditional music performances, a fashion show featuring traditional costumes from various countries, a seminar on Vietnamese and international cuisine, and folk games.

There will be demonstrations of Korean royal cuisine and music and a Viet Nam flag made out of sushi by the city's Samurai Restaurant.

The organizer will create a record 10-meter-long fried spring roll.

There will be a competition for chefs, the "Vietnam Culinary Challenge - Outdoor – 2008," and for visitors, who will have to choose the most delicious dishes and impressive booths for the "Vietnamese dish."

A special treat on offer will be an exhibition of Vietnamese wines, wine processing techniques, and well known wines from around the world.

The festival will be organized by the city Departments of Culture, Sport and Tourism and Saigontourist.