A hundred years of northern Thai Nguyen province tea culture will be showcased at Thai Nguyen Tea Festival which begins tonight in downtown Thai Nguyen city.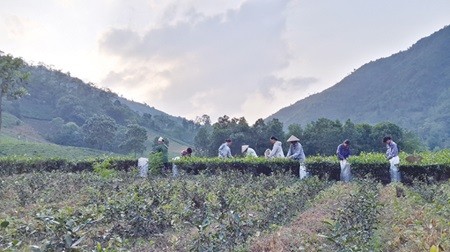 Reading the tea leaves: Farmers work on a tea field in Tan Cuong Commune, Hoang Binh District of Thai Nguyen Province. A festival showcasing local tea culture will kick off today. — VNS Photo Thai Ha
As many as 700 amateur and professional artists from all over the north will take part in a music and dance show focused on Vietnamese tea and Thai Nguyen tea.
This is the third event of its kind the province has hosted to promote local tea production.
Various activities will be organised till Saturday at the provincial museum, Viet Nam Ethnic Cultures Museum and Tan Cuong Tea Culture Space.
"Beside local tea producing enterprises, nine delegations from South Korea, Turkey, Russia, Thailand, Japan, Laos, Indonesia, Malaysia and Brunei will join the event to show tea processing ceremonies, handicraft performances, ethnic costumes and culture," said Vu Hong Bac, chairman of the province's People's Committee.
Tea farmers and artisans will compete at various contests including picking tea leaves, processing tea, the art of inviting people to enjoy tea at the venue.
Guests will be able to experience old tea culture by wearing coats made of leaves and tree bark and drying tea leaves on heated stones like ancient Vietnamese people. Then, they would drink tea through bamboo pipes.
School students from the province and neighbouring provinces will be offered various entertaining and educative activities like learning how to make tea in Vietnamese and Japanese ways.
They can try to make cloth from tree bark from Mong ethic artisans, make bamboo conical hats from artisans from the Chuong conical hat village in Ha Noi, and make floral patterns from beeswax from Dao ethnic artisans.
On this occasion, the Viet Nam Ethnic Cultures Museum opens its ASEAN Corner, which permanently hosts exhibitions on nature and people of the ten regional countries.
Thai Nguyen is located 75km to the north of Ha Noi. The province is well-known for its tea. Tea plants have been grown in the province for nearly 100 years.
Tea planting area in the province now totals 21,000ha with average output of 200,000 tonnes of fresh tea leaves every year.