Unlike decades past, teenage pop music now dominates the airwaves in Ho Chi Minh City. But while they still have to work hard to achieve fame, industry insiders say that overall, today's youth have it much easier than the generations who have gone before them.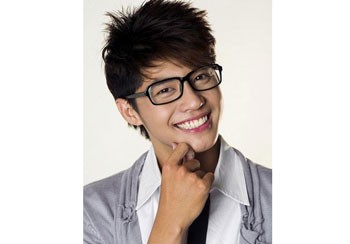 Young singer Noo Phuoc Thinh shares his songs on free music websites before he releases his first album.
More and more Vietnamese teen singers are kick-starting their careers by posting their songs online. The Internet has the advantage of helping them easily reach audiences and receive listeners' feedback before launching a completed product in the market.
The downside to relying on the Internet, however, is that singers who share their latest songs on free music websites, often don't stand to profit as much from CD sales.
Many up-and-comers focus more on pleasing their online fans at the expense of producing and advertising tangible albums.
For teen singers who don't write their own songs, a large resource of material is available from other young amateur and professional musicians.
Teens can purchase the copyrights to these songs more cheaply than they can for older, more iconic songs, thus giving them an edge over their older counterparts.
But some say this also limits the quality of songs that young musicians can perform, putting them on unequal ground with more experienced professionals who can afford to choose from a wider array of material.
Another problem, according to insiders, is that young Vietnamese singers rely too heavily on singing songs written by others and fail to create their own unique sound. Moreover, they sometimes fail to purchase song copyrights altogether, creating legal headaches for the original artists.
Although they have many advantages including youthful good looks and inspired passion, experts say that Vietnamese teens are forging a new and uncertain path that the country's music industry has not experienced before.
As such, it would be wise for youth to communicate with and learn lessons from music veterans to succeed and make outstanding contributions to Vietnamese music.