Students of journalism have been given a chance to practice for their future careers as well as to reflect on social issues through several popular programs on the new television channel VTV6.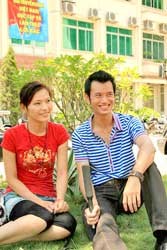 Ngoc Ha (L) - MC of "My Rec" program
"The he toi" (translated as "Our generation") is a weekly program of students from the press departments of several universities. The universities in charge of the channel rotate weekly, and have thus far been extremely successful in creating a moving program through their impressive reporting.
It is through this program that the young generation's opinion on social events can be seen clearly. It is also a place for them to express their feelings and desires.   
Another successful program called "My Rec" is created from audience video submissions. Television viewers can see daily events through the eyes of Viet Nam's youth.
The authors of these video clips are contributing to the order of society by exposing the impolite activities of community members. 
"Our work is suggesting ideas, advertising the channel, producing programs,  and monitoring their quality. We leave topics for the audience to discover." Manager of VTV6 Ta Bich Loan said.
To make the programs more interesting and useful, the channel hopes to receive more news from all kinds of media, Ms. Loan emphasized.