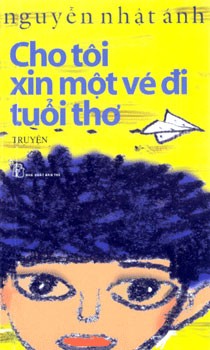 Front cover of the top book

Cho toi xin mot ve di tuoi tho (One ticket to childhood, please), written by Nguyen Nhat Anh, has been named last year's best book by Nguoi Lao Dong newspaper and publisher Fahasa Corp.
Mr. Anh, who is a reporter of Sai Gon Giai Phong Newspaper, has won the honor for a second consecutive year after his Toi la Be To (I am Be To) won in 2007.
The list of top 10 books contains two titles translated from English, one of them on business.
The following are the remaining nine in order from second place: Gio le va 9 cau chuyen khac (Lonely wind and nine other stories) by Nguyen Ngoc Tu; Tieu thuyet dan ba (Women's novel) by Ly Lan, Neu the gioi la mot ngoi lang (If the world were a village) by David J. Smith; Thi truong hoan hao (The perfect store) by Adam Cohen; 99 tuan buon chuyen (Chatting for 99 weeks) by Tran Thu Trang; Chuyen minh – Chuyen nguoi (My story – Their stories) by Viet Linh; Hanh trinh xuong thuy tinh (Glass bone journey) by Nguyen Thu Huong; Quyen luc dich thuc (True power) by bonze Thich Nhat Hanh; and Doi (Life) by Nguyen Dong Thuc.
Ms. Tu last year became the youngest Vietnamese writer to win the ASEAN Literature Award.
Ms. Lan is also famous for translating all the Harry Potter novels by English writer J.K Rowling.