Various cultural activities held all over the nation this year received good and bad reviews. Saigon Giai Phong Newspaper noted 10 of the most remarkable events of 2012.
 
1. First Ho Chi Minh City Art and Literature Award.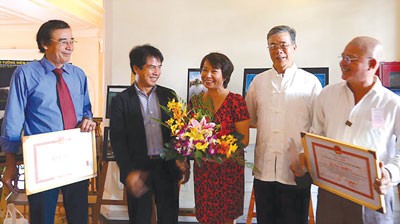 Winners of the first HCMC Art and Literature Award (Photo: SGGP)
This prize, awarded every five years, is given to excellent persons in the fields of literature, theatre, fine arts, music, movies, photography, architecture, and dance.
Considered the highest award of its kind in both value and scale, it also provides an opportunity for Ho Chi Minh City to popularize high-quality artistic talent.
 
2. 40th anniversary of Victory in Dien Bien Phu by Air.
Many meetings, performances, and informal discussions with veterans were held to recall their memorable and proud experiences. All these activities, which were carefully organized, have left an unforgettable impression on the minds of the public.
 
3. Recognition of Worship of Hung Kings as Intangible Cultural Heritage.
This is the first time that UNESCO has recognized the worship activity of a people. It is both the pride and a unique feature of the Vietnamese people since they believe that a whole nation shares the same origin.
 
4. Visits of Writers and Artists to Spratly Islands for Inspiration.
The result of these visits is a series of artistic products sharing the same topic of life on the islands and border areas, greatly boosting the morale of soldiers on duty in these regions.
 
5. E-books become a Reading Phenomenon.
More and more online bookstores and book fairs have appeared with the participation of well-known national publishers such as Tre Publisher and Ho Chi Minh City General Publisher, showing that online business of this kind is now more popular.
 
6. Cultural Exchange Programs between Vietnam, Cambodia, and Laos.
Through these programs, people of the two countries, especially those living along the border, had an opportunity to introduce their own culture as well as learn more about the culture of their neighboring country, significantly increasing understanding and cooperation among them.
 
7. Drama 'Loi The Thu Chin' (9th Oath) by Luu Quang Vu on Stage Again.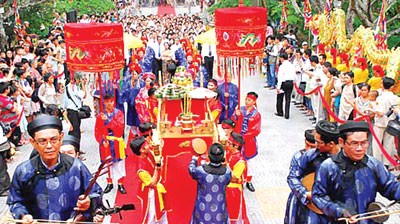 City residents participate in the worship ceremony of Hung Kings (Photo: SGGP)
Although old, the drama was still warmly welcomed because of its hot topic, discussing the fight against harassment by government officers towards people and the injustice in life.
 
8. Severe Destruction of Tram Gian Pagoda in Hanoi.
Built during the Ly Dynasty, this pagoda has been recognized as a national heritage for nearly 50 years. However, inspectors from the Ministry of Culture, Sports and Tourism as well as the Department of Cultural Heritage could not prevent recent restoration works from completely destroying its ancient original structure and rebuilding it in a modern style.
 
9. 2nd Hanoi International Film Festival.
'Cat Nong' (Hot Sand) by Director Le Hoang was chosen for the opening ceremony of the festival, raising many objections due to its low quality. The other two films taking part in the festival were 'Dam Me' (Passion) by Director Phi Tien Son and 'Thien Menh Anh Hung' (Hero's Heavenly Mission) by Director Victor Vu also received negative comments.
 
10. Offensive Dressing Style of Singers and Models.
This, along with the incident of singer Dam Vinh Hung kissing a monk and beauties becoming prostitutes to earn thousands of US dollars, marked the degradation of morals among artists.