Under permission of the Ha Noi Department of Culture and Information, an auction of rare and valuable antiques from the "Antiquarian's spring festival" collection is being held at 79 Hang Trong Street, in Ha Noi from January 19 to 20.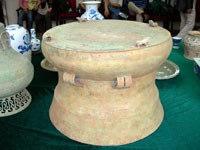 Dong Son bronze drum
According to Dao Phan Long, Chairman of the Thang Long Antiques Association, there are ten relics to be auctioned including a Dong Son bronze drum with a starting price of VND120 million (US$7,500), a Dong Son jar at the starting price of VND80 million (US$5,000) and other pots, terra-cotta seats and vases.
The New Year Festival also introduces to antique lovers more than 1,370 ancient objects of collectors in Ha Noi and provinces such as Nam Dinh, Thanh Hoa, Hai Phong and Thai Binh.
The event is organized by Co Vat Tinh Hoa Magazine, in cooperation with the Thang Long Antiques Association.