Unlike previous years, the 2008 Tet holidays' fashion market is seen to be more abundant, better-designed and more up-to-date, especially locally made clothing, as manufacturers start switching their interest back to the domestic market, launching wider ranges of products for the year-end shopping season.
New Brands – More Choice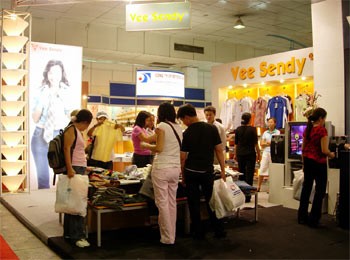 Vee Sendy, one of the brands of Viet Tien Garment Company. (Photo:KK)
Viet Tien Garment Company Managing Director Phan Van Kiet said that, besides new products under familiar brands like Viet Tien, Vee Sendy and TT-Up, this year Viet Tien will offer two new high-class brands for Tet, the Italian-styled "San Sciaro", designed by Viet Tien, and the American-styled "Manhattan", which Viet Tien licenses form a US firm. The new brands are to be sold via Viet Tien's current distribution chain at prices of VND450,000-500,000 (US$27-30) in January 2008.

Sanding Deputy Director Hoang Thi Minh Chau said her company plans to introduce numerous new designs for holiday shoppers, including the new "Love Story" brand for young people, at VND109,000-VND179,000 (US$10), "W-One", a high-class women's label, at VND259,000-500,000 (US$16-30), "VCS", office gear for men, "Kiddream" for kids at VND69,000-139,000 (less than US$10) and the "Besosi" brand for toddlers.

"F-house", a branch of the Phuong Dong Garment Company, is somewhat renowned for its adolescent fashions thanks to its young designers. For Tet 2008, F-house plans to present trendy, young, up-to-date styles in cottons, jeans and khaki at prices of VND200,000-400,000 (US$10-25).

Spring 2008 Collection.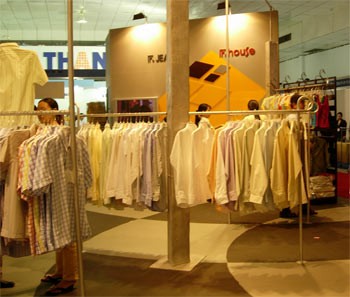 F.house, a branch of Phuong Dong Garment Company. (Photo:KK)
This year's trends are said to favor brighter colors, like reds, dark greens, purples, pinks and yellows, perfectly suited to the cheerful atmosphere of the Tet holidays.

Hi-Fashion Co. just launched a new collection made of silk pullovers and khaki outfits ranging from VND229,000-1,200,000 (US$15-70).

Miu Rey plans to present relatively simple designs in velvet, muslin and cotton, at VND400,000-1,300,000 (US$25-80).

Foci, a local clothing manufacturer with 60 shops, are to introduce hundreds of designs for teenagers, jeans, khaki pants, skirts, jacket and so one from VND100,000 to VND300,000 (US$10-20).

Blouses and dresses with large belts are currently quite popular, so fashion houses have developed a variety of such designs. For example, Giovani's collection emphasizes stylized dresses with selvages, lace, and special patterns, all in muslin or silk and retailing for VND700,000-1,500,000 (US$40-90).

The Huong Collection instead is to specialize in unique materials for modern blouses, skirts and dresses at VND400,000-700,000 (US$25-40).

The Thai Shop instead plains to introduce its Gala Dress collection, decorated with hundreds of tiny exotic stones, a collection which has gained a lot of interest among consumers.