This Tet holiday season an interesting array of Vietnamese films has been lined up for audiences, having great cinematic content as well as a joyful comedy that audiences are sure to enjoy.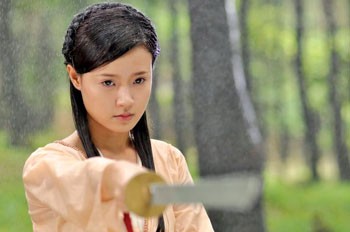 Actress Midu in the film Thien menh anh hung (Blood letter)
Director Victor Vu will present to the public his latest historical movie titled Thien menh anh hung (Blood letter) on Lunar New Year.
The film stars Huynh Dong, Khuong Ngoc, Van Trang, Kim Hien and Midu and is about the descendents of Nguyen Trai, a Vietnamese national hero and great poet.
It relates to the period in July 1442, when King Le Thai Tong paid a visit to the Eastern part of the country and rested in the house of Nguyen Trai in Con Son (Chi Linh in Hai Duong). Trai's wife, Nguyen Thi Lo, served the King during the royal stay. On his return journey to the capital, the King suddenly passed away in Le Chi Vien garden (currently Gia Binh in Bac Ninh Province). Nguyen Trai was accused of killing the King and was sentenced on 16th August 1442.More than 10 years later, the youngest son of King Le Thai Tong, Le Tu Thanh, ascended the throne calling himself Le Thanh Tong. In 1464, King Le Thanh Tong issued a royal proclamation to vindicate Nguyen Trai, and praised him saying that "Uc Trai's spirit shines like a star".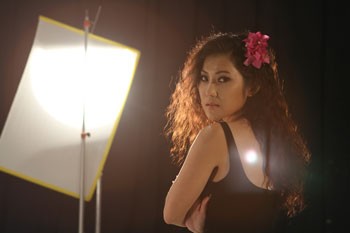 Actress Kim Phuong in the film Vu dieu duong cong (Belly dance)
Vu dieu duong cong (Belly dance) is a story about the world famous Arab Dance with film stars Vo Thanh Tam, Viet Anh, Tang Nhat Tue, Kim Phuong, Tieu Chau Nhu Quynh and Minh Luan.
After screening in cinemas, the movie will be released on DVD. Audiences will be offered a DVD on belly dancing taught by actress Kim Phuong, as a promotional gift with a purchase of a DVD.
Supernatural and horror film titled Cot moc 23 (Milestone No.23) tells about a young girl suffering from a brain tumor. After moving to a remote town, she changed her view on life and the poor. Actors and actresses such as Huy Khanh, Phi Thanh Van, Quoc Cuong, Than Thuy Ha, Trung Dan, Tiet Cuong and Bao Truc are part of the film.
Action and martial arts movie Chan dai hanh dong stars actors Thanh Hang and Tang Thanh Ha and is also expected to attract a large number of audience.
Meanwhile the comedy Hello Ms. Ba by Phuoc Sang Studio will awaken viewers with its light comedy, starring Hoai Linh, Chi Tai, Phuoc Sang, Kim Thu, Tan Beo, Hieu Hien, Phi Nhung, Viet Anh, Hong Van, Trinh Kim Chi and Huynh Anh Tuan.