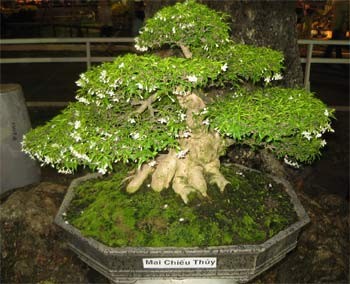 An ornamental plant is displayed at the festival (Photo: Kim Khanh)
The organizers of the Spring Flower Show in Ho Chi Minh City's Tao Dan Park from February 12 to 24 will hand over VND124 million to build a school in Can Gio District, said Mr. Tran Thien Ha from the organizing board.
In all the organizers rewarded 317 exhibitors with 424 prizes including one special, 45 gold, 83 silver, 114 bronze and 119 consolation prizes.
"The Spring Flower Show is one of the main festivals for the lunar New Year in Ho Chi Minh City and draws hundreds of growers from across the nation exhibiting a great number of ornamental plants from Thailand, Taiwan, Malaysia, Singapore, Korea and many other places," commented Trinh Minh Tan from the Orchid Society.
"Still, I think it should be enlarged to attract even more locals and foreigners," Tan said.
This year's show drew more than 400,000 people over the two weeks.