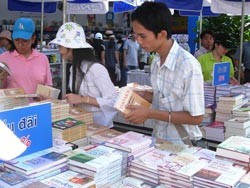 Students are buying books at a book shop in Ho Chi Minh City (Photo: TC)
Millions of revised textbooks for the tenth-grade will be officially released nationwide on July 5, says the Education Publishing House.
To July 4, of the planned 24 million copies, around 4.8 million have been printed and ready to be distributed to students.
Every 13-volume set of textbooks with 11 subjects will cost a little over VND100,000.
Viet Nam's high school system is streamed into 3 major divisions, majoring on natural sciences, social sciences and humanities and foundation studies. Thus, the information and syllabus are adjusted in some certain subjects to make sure that they will properly meet the specific requirements of each division.
At the beginning, the revised textbooks will be available to students through the distribution system of the Education Publishing House, which pledges to supply enough books to students for the 2006-07 school year.