The Vietnam Museum of History in Ha Noi is staging an exhibition of Thai antiquities to celebrate 30 years of diplomatic ties between Thailand and Viet Nam.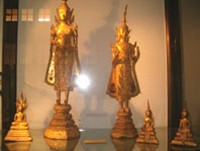 Buddha statues
Sacred statues and other objects of worship stand out among the more than 150 exhibits from different times in Thailand's history.
Also of interest are the Sawankalok pottery from the 14th to 16th centuries, Benjarong pottery from the 19th and 20th centuries, and the assortment of enameled and gilded bronze objects. Most bear the image of the Buddha and are decorated with traditional Thai patterns.
Then there are the diverse Buddha statues cast in bronze or carved out of wood. In fact, all the wooden objects on display have been highly praised by the local art experts for their sophisticated recreations of sacred animals like the Shimha lion, the Garuda bird, the Kinari bird goddess and the Nagar snake.
Farming implements and other tools from times long gone make up the rest of the objects on display until January.