An exhibition of paintings of famous Vietnamese artists from the private collection of Thai art collector, Mr. Tira Vanichtheeranont, was displayed at the HCMC Fine Arts Museum in October 2011.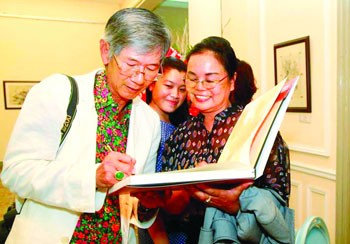 Thai collector Tira Vanichtheeranont autographs a fine arts book for a reader.(Photo: SGGP)
Tira Vanichtheeranont has been collecting paintings, sketches and drawing by Vietnamese artists who studied at the Indochina Fine Arts College (1925-1945, (now renamed Vietnam Fine Arts University) since 2009.
He bought art works from various sources including Vietnamese painters, collectors and other art lovers. Among them, his fellow-countrywoman Nilkamhaeng Passama sold him a valuable collection of Vietnamese paintings.
As he learnt more about Vietnamese paintings, he recognized their beauty and great value.
His collection helped historical researchers and art lovers relive the memory of generations of painters of the Indochina Fine Arts College.
They include paintings on the Anti-French resistance war 1947-1951, Anti-American resistance war 1967-1971, and daily activities of the people in the north-western region from 1958-1963.
One of the highlights is a collection of 10 wood-carved paintings on The Tale of Kieu by Vietnamese poet Nguyen Du by painters including Luong Xuan Nhi, Nguyen Tuong Lan, Nguyen Do Cung, Tran Van Can, Ton That Dao, Le Van De and Luu Van Sinh. The collection presents a merger of Vietnamese literature and paintings.