The Northern Province of Thai Nguyen has asked for government    permission to host an International Tea Festival biannually, after the success of the first-ever international tea festival which wrapped up Tuesday.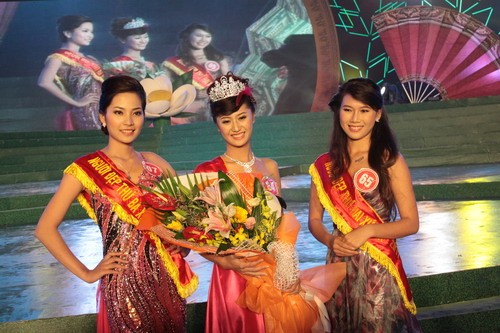 Winners of the competition titled "Beauty and flavor of Vietnamese tea"
The tea festival is organized every 2 years to honor tea growers, scientists and help promote exports and consumption of tea in the region. The organizers hope to turn drinking tea into a popular cultural activity in the country.
With around 20 activities including exhibitions, international workshops on tea, beauty contests, tea tasting ceremonies and traditional art performances, the seven-day festival succeeded in advertising and honoring Vietnamese tea products and creating a platform for both domestic and foreign tea growers, producers, enterprises, scientists and consumers.
At the closing ceremony, the organizers also awarded 46 gold cups to winners of three contests on Golden Tender Tea Leaves, Golden Hand and Vietnamese Tea Culture and for excellent contestants in the competition titled "Beauty and flavor of Vietnamese tea".
The Vietnam Tea Association and the Trade Magazine also gave away cups to 19 well-known tea brands in the country.