A young Thai teen idol, Mr. M, will perform at the "Hoa nhip ban tre" (Harmony between young people) series of music shows on August 23 in HCM City, it was announced recently.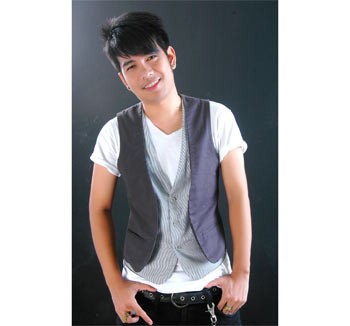 Thai teen idol Mr. M will sing in Vietnamese for the first time at the music show "Hoa nhip ban tre" on August 23 (Photo: Courtesy of Cat Tien Sa Media)
The sole foreign guest will give three performances, one solo Thai song, "Narak Na Love" (A beautiful love), and two duets with two Vietnamese singers, Phan Dinh Tung and Minh Thu.  
In the duet with Phan Dinh Tung, he will sing Tung's hit "Boi vi anh yeu em" (Because I love you). All the lyrics will be translated into English.  
The most eagerly awaited performance is Mr. M's collaboration with Minh Thu in her latest hit, "Bong dung muon khoc" (Suddenly want to cry).  
While Thu will sing her song in English, Mr. M will for the first time sing in Vietnamese.  
The August show is part the mini live show of three singers, Minh Thu, Phan Dinh Tung and Dong Nhi.  
The Vietnamese guests are Thu Minh, Yen Trang (ex-member of girlband May Trang), Dinh Ung Phi Truong (Top Seven at Vietnam Idol 2008) and the teenage model and singer Noo Phuoc Thinh.  
The show will be broadcast live at 8pm on HTV9 and performed at Nguyen Du Club, District 3.  
Mr. M, real name as Nattapol Wannapong, 25, is studying tourism management at the Silpakon University while promoting himself as a professional singer. He also works for Thailand's leading music magazine Harazard.  
He achieved success at the Thai KPN Awards 2009, a search for young talented singers. He has also received many awards from local Thai television. 
The series "Hoa nhip ban tre," a monthly music show for the city's teenagers, has been held by Ho Chi Minh TV and Cat Tien Sa Media since May