Viet Nam Archaeology Institute has just sent a request to the management board of construction project of Parliament's House and Ba Dinh meeting hall to call for a halt of the construction around the areas of C3 hole and the wall which bordered the B zone in Thang Long Royal Citadel. The construction is posing a risk of damaging the citadel's foundation.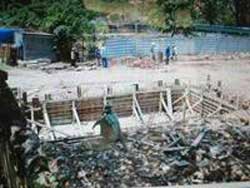 New projects are damaging the citadel

The Administration Department of National Assembly Office had excavation conducted at the depth of about one meter underground in the area on May 9. The Viet Nam Archaeology Institute immediately sent an urgent memo to and worked with the management board of construction project to call for a pause to the work on May 10.
The construction continued. A brick-sewerage was being built around C3 hole and the foundation of another project was being completed.
Deputy PM Pham Gia Khiem had directed the People's Committee of Ha Noi, Ministry of Culture and Information and the Archaeology Institute of Viet Nam Social Sciences Institute to study the planning and conservation the whole D plot (zones of A, B, C, D) and Ha Noi ancient citadel in Thang Long Royal Citadel, and compile a research paper for UNESCO to recognize the Royal Citadel as a world cultural heritage in 2010.
According to a report by the Archaeology Institute, the C3 hole of over 100 square meters was surveyed in 2002. It is one of the 20 first holes which were excavated for the survey.
In C3 hole, scientists discovered the architectural vestiges of Ly and Tran dynasties. The discovery was highly appreciated for the scientific study of the relic. So, the whole of the citadel has to be conserved and the neighboring projects ought not to be allowed to continue.