Thanh Hoa Province's leaders offered bronze drum, a cannon and a sword as offerings to late General Vo Nguyen Giap at the commemorative area of the late General in Vung Chua-Yen Island in Quang Binh province on January 11.


These sacred objects were donated on the occasion of the 100th day since his death on October 4.
The drum depicts images of the life and revolutionary career of late General Vo Nguyen Giap, and glorious victories of the Vietnam People's Army .

The cannon is 163cms long and was presented to General and the 65cm long sword symbolizes 65 years since Vo Nguyen Giap was promoted as a General.

Deputy Chairman of the People's Committee of Thanh Hoa Province, Vuong Van Viet affirmed that the casting of bronze drum, a cannon and a sword aims to commemorate the General and pay tribute to his great contribution to the country.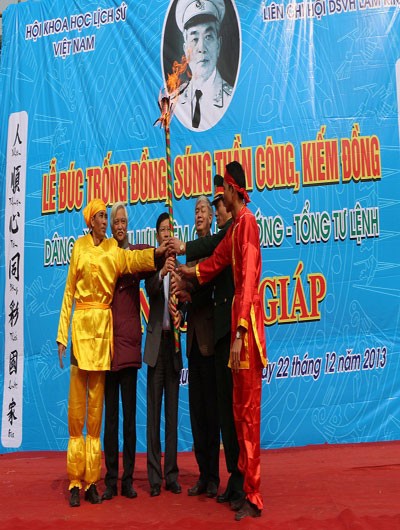 Casting ceremony of a bronze drum, a canon and a sword in Quang Binh