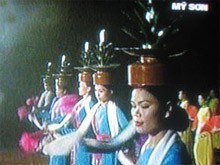 Photo: Tuong Chau
Together with the host of Asia-Pacific Economic Cooperation 2006 (APEC), the National Tourism Year 2006 is a great opportunity to introduce Quang Nam's tourist potential, with diversified Vietnamese tourist attractions.
On the first day of the ceremony (February 12, 2006), more than 9,000 visitors took part in the festive activities at My Son and the Chu Lai Open Economic Zone. More than 3,100 tourists filled the local hotels, an increase by 700 in comparison with normal days.

Mr. Nguyen Xuan Phuc, Chairman of Quang Nam People's Committee, gave SGGP newspaper a certificate of merit for its contribution to the ceremony.

Hoi An and My Son were declared World Heritage Sites by UNESCO in 1999. My Son is a holly land of Cham dynasty, between 4th – 12th centuries, located about 69 km southwest of Da Nang. It has many temples dedicated to the Hindu Goddess Shiva. And Hoi An ancient town, located around 30 km south of Da Nang, was one of the main trade centers of Southeast Asia in the 16th century.
Hoi An, streets look like bright rivers 


Photo: SGGP
On the evening of the first day, on the floating stage on Hoai River in Hoi An, Deputy Prime Minister Vu Khoan officially opened the ceremony. Thousands of local and foreign visitors rushed to Hoi An, My Son and Chu Lai.

The Hoai River was illuminated with colored lanterns, and Ho Khoan songs (a kind of Vietnamese traditional songs) were heard all over.
Next to the floating stage, Chua Cau ( Cau bridge) which was build in typical Japanese style, was also lit up splendidly by hundreds of lanterns.

Ms. Ho Thi Thanh Lam, Deputy Chairman of Quang Nam People's Committee, said that the opening ceremony of the National Tourism Year 2006 coincides with the 535th birthday of naming the town Quang Nam (1471-2006).

The ceremony took place on February 12, 2006. It was also the 15th day of the first lunar month, a day which Vietnamese called Tet Nguyen Tieu. This is an important festival of Hoi An's people, especially the Chinese-Vietnamese who have lived in Hoi An for a long time.

50 festive activities took place in Hoi An. Hoi An invested more than VND 12 billion to built a Square with the area of 10,000 square meters in Minh An and Cam Pho wards.

Elvis Kahn, an American visitor, said that he and his friends like to take a walk among colored lanterns. And Lara Fabian, a French visitor, said that he will come back to Hoi An.

My Son, an attractive enchantment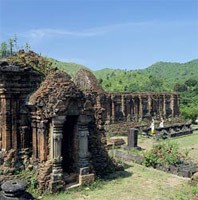 Photo: Tuong Chau
My Son prepared a performance called "Legendary My Son", consisting of three chapters: The Legend - The Spirit of Cham Culture - A Harmonious Dance.

72 temples were also floodlit with colored spotlights. The visitors were taken back to the ancient Cham Pa dynasty, with Apsara dances, folk dances, folk ditty songs.

Thousands of local visitors had came to My Son in the early morning. They took food and water, sat down on the grass and waited until nightfall for the show.


Chu Lai, a land full of new vitality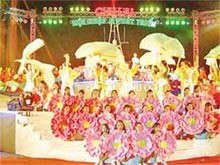 Photo : Ha Minh
Chu Lai is the first and unique Open Economic Zone in Viet Nam. It consists of the communes of Tam Xuan, Tam Hiep, Tam Nghia, Tam Hai, Tam Quang, the mountain district of Quang Nam citadel. Chu Lai was opened two years ago, creating advantageous conditions to welcome domestic and foreign investors.

Mr. Tran Minh Ca, Deputy Chairman of Quang Nam People's Committee, said that besides two world heritage sites of Hoi An and My Son, Quang Nam will continue to develop its potentialities, such as tourist resorts in traditional craft villages.

In the event of National Tourism Year 2006, tourist companies will take their visitors to ethnic minority villages on Truong Son Mountain.

According to Mr. Pham Tu, deputy director of General Department of Tourism, the number of visitors who come to the central provinces within a year is one of third in the whole country.

In 2005, Viet Nam welcome more than 500,000 foreign visitors. This number will be maintained in 2006. From the event of the National Tourism Year 2006, General Department of Tourism is confident that Quang Nam will be one of the three places which will attract visitors in the middle region.