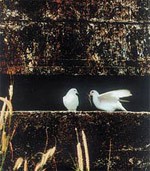 photo:SGGP
The photography contest of Binh Tuat Spring 2006 (the Lunar New Year 2006), organized by Ho Chi Minh City Photographic Association, received 1,357 color and black- and- white photos from 233 photographers of 28 provinces and cities throughout the country.
The Board of Examiners has chosen 116 art photos for display and awarded 11 prizes. The first prize went to "The City on Independence Eve" a photograph by Nguyen Hoang Anh (Ho Chi Minh City), the second prizes to "Together" by Lam Vien (Dong Thap province), and "The figure of homeland" by Vu Dung (Hai Phong City).

There were also two third prizes and 5 consolation prizes, not to mention a special prize for"The sweet home" by Nhan Quoc Dung. The exhibition will be opened on January 20, 2006 at the head office of Ho Chi Minh City Photographic Association.