A big table was put up in the middle of the lobby of the five-star hotel Equatorial in Ho Chi Minh City in the January 21, 2011 evening. On it were many different vegetables such as pickled leek, preserved papaya and shredded cucumber, fresh salad (including radish and carrot), seasoning, sauces and fresh salmon.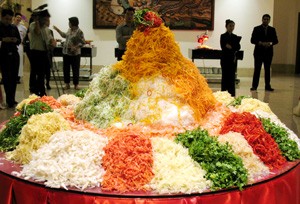 A big table of Yee Sang ingredients at the Equatorial Hotel lounge in the January 21, 2011 evening (Photo: Tuong Thuy)
It was seen shortly before the start of a gathering for Yee Sang dish the hotel held for its guests.
Then Equatorial general manager James Montenegro invited everybody to come closer to the table to witness the mixing of the dish. Each of the guests held a pair of bamboo chopsticks about half a meter long, about to join the mixing.
A chef showed up and, with his skills, mixed all the ingredients, while Montenegro and others around the table joined with their chopsticks, and tossed the food.
Yee Sang is a salad that requires the diners some skills to toss the food with chopsticks – the higher the salad is tossed, the higher the level of success and prosperity might be achieved by those at the table.
The Equatorial in District 5 is serving the "prosperity" fish salad during January and February – the month time of the Lunar New Year holidays.
All the ingredients are decoratively displayed on a large plate for the diners to join in tossing. During the tossing process, guests around the table make good wishes to each other for the year.
This dish is considered a symbol of abundance, prosperity and vigor. The tradition of eating Yee Sang to raise good luck for the New Year is popular among overseas Chinese in Malaysia and Singapore.
Families and friends gather around the table and, on cue, proceed to toss the shredded ingredients into the air with chopsticks while saying out loud Yee Sang (interpreted as a homophone for Yúshēng meaning an increase in abundance) to mark the start of a prosperous new year. It is customary that the higher you toss, the greater your fortunes.
Montenegro said to his guests in the January 21, 2011 evening that the invited here were considered as in a family.
The Equatorial serves the salad at Orientica Restaurant. It also provides Yee Sang for take away.