Film Trai tim be bong (The little heart), directed by Nguyen Thanh Van, will take part in a competition for the Best Southeast Asia Film Award of the Bangkok International Film Festival, which will take place Sept. 23-30.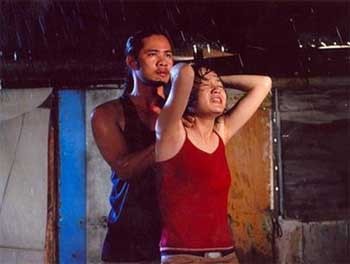 A scene in the film "The little heart"
"The little heart" won the Silver Kite Award 2007 and the Best Director Award of the Viet Nam Cinema Association. Nguyen Thanh Van and his wife, director Nhue Giang, will travel to Thailand for the festival.

The film will be among nine features from the Southeast Asian countries competing for the "Best ASEAN Film" award, namely Twelve Lotus (Singapore), Breathing in Mud (Malaysia), Day of Turquoise Sky (Malaysia), Love of Siam (Thailand), Now Showing (Philippines), Serbis (Philippines-France), The Photograph (Indonesia), and Years When I Was a Child Outside (Philippines).

The festival has been held annually since 2002. It is organized by the Tourism Authority of Thailand, a government agency in Bangkok.
Each year, the festival shows more than 100 features and short films. These represent some of the best films in the current international cinema scene. The festival focuses on works by emerging filmmakers throughout Asia, especially those in Southeast Asia.
The highest Golden Kinnaree awards will be granted for the Best Film, Best Director, Best Actor, Best Actress, Best Cinematographer, Best ASEAN Film, Best Asian Short Film, Best Feature Documentary, New Voices Award (Best New Director), The Jameson Thai People's Choice Award.

In addition to film screenings, the festival features the Bangkok Film Market, seminars, and gala events.

This year's film fest also shows films from the U.S, Britain, France, Turkey, Indian, Colombia, Brazil, Belgium, China and Iran.