The Beatles cover-band, The Beatels have arrived in Vietnam for their three date tour. SGGP caught up with them to discuss music and their preparations for the gigs.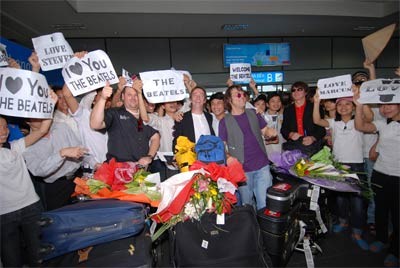 The Beatels are received by local fans at Noi Bai International Airport on May 26 (Photo: Courtesy of AN5Media)

When did you begin listening to music by The Beatles? What do you like most about their music?

The Beatels: Steven Shipley (aka Paul McCartney): When I was three or four years old. The things I like most are the way each song is perfect in its musical arrangement, and the way their songwriting matured throughout their career.

Bruce Cobble (aka John Lennon): I began listening to The Beatles when I was about five years old. My family had an EP of The Beatles (from their tour to Australia in 1964) that had four songs: She Loves You, Can't Buy Me Love, All My Loving and I Wanna Hold Your Hand.

My music teacher at high school was a big fan of The Beatles, so he taught us music by getting us to play Beatles tunes. There are many great Beatles albums, so it's hard to pick my favorite, although Rubber Soul and Revolver are pretty high on my list.

Imitating great idols like the Beatles is hard, but being successful, like you, is harder. Which features of the Beatles are most difficult to imitate?

Steven: The look (laughs). Though, Bruce does okay. We really aren't a look-a-like band, more of a 'sound-a-like' band.

Bruce: Well, to me, the Beatles were great vocalists and great musicians. The task of finding four guys who can play the parts that each Beatle played - and play it well - is not easy. We have been very lucky in that department, but even still, a live performance of The Beatles is a difficult thing to imitate, because they were such a good band with such a range of brilliant songs.

It is said that you bought some instruments of The Beatles. Do you often perform with such precious things?

Bruce: All of the guitars that we use on stage are the same types of instruments used by The Beatles. For instance, Marcus Phelan (aka "George Harrison") plays a 1964 Gretsch Chet Atkins Country Gentleman and a hand-painted fluorescent Fender Stratocaster – "Rocky" – just like the real George. We have the same Rickenbacker and Hofner Basses as Paul, and the same 3/4 scale Rickenbacker 325, blonde Epiphone Casino and J160E acoustic guitars that John used. Using the right instruments is an important part of how The Beatels get the sound of The Beatles right.    

Steven: We believe instruments are for playing, as long as you look after them. We are very lucky because we have Josh (our guitar tech) to make sure they are well looked after.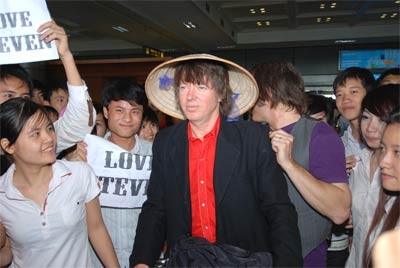 Steven Shipley wearing a non la (conical straw hat) (Photo: Courtesy of AN5Media)

You are talented musicians in your own right, do you believe you could be successful without imitating The Beatles?



Steven: We do other things musically besides Beatles imitations, but I doubt whether we could get the same level of success without devoting as much time as we have in The Beatels into another project. We had to make a decision sometime ago whether to devote our energies into becoming a good tribute band or a good original band. I hope we made the right choice.

Bruce: Besides the Beatles' music, we also do write our own songs, and recently we have even begun to record some of them. But doing your own songs is very different to playing the music of The Beatles. Playing the music of The Beatles is something that we all really enjoy, and we happen to do it very well, so as John Lennon once said, "Life's what happens while you're busy making other plans".

When you play, which parts of the Beatles do you ape and which parts are your own ideas?

Bruce: Well, let me see, our aim is to have each person in our group do exactly what their character in The Beatles did. So for example, I play the exact guitar parts that John Lennon played, and I sing the exact notes that he sang. Steve plays the parts that Paul did, Marcus plays the parts that George did and Neil plays the parts that Ringo did. That way, when we put it all together, it sounds like the original Beatles song. We try not to 'do our own thing', because then it wont sound like the original Beatles recording.

Which songs are you practicing at the moment?

Steven: The Long and Winding Road.

And what of the lives of The Beatels outside of music?

Bruce: We are all parents now! I have been married for twelve years to my Chilean wife Francisca, and  we have three children: Danica, aged nine, Liam, seven, and Joshua, two, and they are all very upset that I am leaving them at home when I come to Vietnam to perform.

Following the first Vietnam concert in 2005, this time, the tour will be organized on a larger scale, and fans are waiting for wonderful shows. How have you prepared for it?

Bruce: We have a special collection of songs that we plan to perform for our Vietnamese fans, and we have been working hard, and practicing those songs. We always find it's important to listen to the original recordings on a regular basis, and every time we do, we learn more about the songs.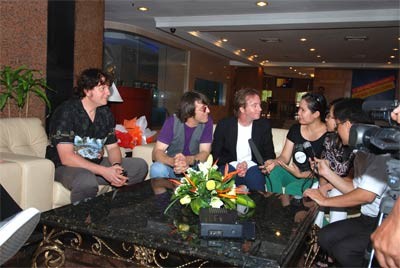 Bruce Cobble (purple T-shit) and Marcus Phelan (on his right) answering reporters' questions (Photo: Courtesy of AN5Media)

Could you reveal some special things in the shows?



Steven: I'll be wearing my lucky socks (laughs).

It is said that you are willing to try any traditional Vietnamese food? What's your favorite Vietnamese food?

Steve: It is all good. I particularly remember "nom du du" (papaya salad) that was delicious.

Bruce: I'm not very good at remembering the names of the dishes, but I did like the soups, and I also enjoyed everything that we ate at the night market in Hanoi.

Which places in Vietnam have you visited?

Bruce: On our last tour in 2005, we visited HCM City, Nha Trang and Hanoi. We had quite a few days off in Nha Trang, and spent a day at Hon Tam Island in Nha Trang, which was quite a bit of fun. But Vietnam is such a big country and we know that we have only seen a fraction of what there is to see.


The Beatels will be playing at Giang Vo Exhibition Center in Hanoi on May 29, the Multi-arts Performing House in Da Nang City on May 30 and Lan Anh Music Club in Ho Chi Minh City on May 31.

Tickets cost: VND350,000 (US$20) – VND250,000 ($14) – VND150,000 ($9)
Related article:

Magical Mystery Vietnam Tour