Vietnamese Record Holders nationwide will attend 'The Meeting of Vietnamese Record Holders 2006', held by the Viet Nam Guinness Book Center (Vietbooks) on May 14 at Dam Sen Cultural Park in Ho Chi Minh City.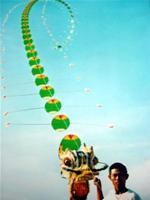 The longest dragon-shaped kite in Viet Nam, one of nine records nominated at the meeting

The audience will have a chance to meet with Record Holders in many fields, such as artist Tran Manh Tuan, collecting the most bagpipe instruments in Viet Nam, Nguyen Van Dieu, spraying milk through his eyes, Nguyen Kim Tuan, skinning coconuts with his teeth, artist Tong Son, playing harmonica like in a circus, the record hip-hop band. The audience will also enjoy their original performances at the meeting.
Other record holders, like 'Lamp Genie' Nguyen Cam Luy, who can move a house to a new location without demolishing it, artists Ho Kieng and Mai Dinh Toi, writers Son Nam and Nguyen Nhat Anh, martial arts instructor Quoc Cuong, astronaut Pham Tuan, and IT prodigy Nguyen Khanh Anh Hoang, will also be present.

Five record items will be displayed, including the biggest album (Vietnam - the Moments), the biggest newspaper-clip collection book, the biggest medal, the biggest frameless lantern and the biggest love autograph book.