Hong Soon Chul is one of the most famous documentary film directors in Korea. In December 2005, his crew is shooting a film named "Ho Chi Minh - The Vietnamese Star". While in Ho Chi Minh City (HCMC), SGGP took a chance to interview.
Sai Gon Giai Phong (SGGP): How do you feel when you work on a documentary film about President Ho Chi Minh?
Hong Soon Chul (HSC):  At first, we felt worried for this is the first time we in Korea decided to produce a documentary film on Ho Chi Minh, the famous former president of Vietnam. However, what helped us to overcome our reservations later was our admiration and respect for him. I am really surprised and excited day after day I discover an intimate relationship between the Vietnamese people and the president.
Visiting the Dragon House where the HCM Museum is placed, I was given an explanation about a certain statue of a Southern Vietnam mother who is handing a handful of earth to a solider on the day he goes fighting in Northern Vietnam. This image is a token of the Vietnamese affection for Ho Chi Minh, the leader of Vietnam during wartime. It is also evidence of a strong spirit inside every Vietnamese to reunify the country.
SGGP: Before you visit to Vietnam, what did you study about President Ho Chi Minh?
HSC: I heard of his reputation when I was very young. However, my understanding at that time was somehow dubious, and I was just aware that he was a great chairman and communist living in Vietnam. Later, with the help of many books, newspapers and the Korean youth movement, I began to understand of Ho Chi Minh. Our film producing team now has a more objective and impressive view about him.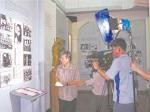 Hong Soon Chul is shooting his film in Ho Chi Minh Museum, Ho Chi Minh City
We do understand he was a patriotic communist, an excellent leader of the national liberation movement. It is a pity that when there is so little material in Korea concerning the former president. But recently, more books and articles are translated; thus, we have more chances to approach and understand Vietnam's great leader.
Just like Bang Hyun Suk, a Korean writer who visited Vietnam before, we want Ho Chi Minh to come to life again, though only on screen. In our film, we aim at introducing the Korean young generations to President Ho Chi Minh's patriotic spirit, his outstanding leadership, his thoughts and moral personality which are the most important characteristics. Besides, this film is to help the Korean young generations to understand Vietnam as well as to enhance the mutual relationship between the two countries.
SGGP: A lot of your television programs draw much attention from the public; do they influence Korea's society? Could you please tell us something about your working experiences?
HSC: After graduating the course for film directors, I work with the MBC Korean Television. I am specialized in producing documentary films of celebrity, and my films base on the authenticity truth. To make a film of a person, I think you should try to understand him with all your knowledge, your social experience as well as your research through communication.
Moreover, your experience and data processing skills are also the most important tools for the job. Some of my documentary films became the subjects for other directors to shoot their own films. Currently, besides teaching at the National Art University of Korea, I still make documentary films with great love.
SGGP: Thank you very much.