The third "Miss Charming TV" will officially kick off on December 28 to find the most outstanding candidate from 15 contestants from 13 television stations all over the country.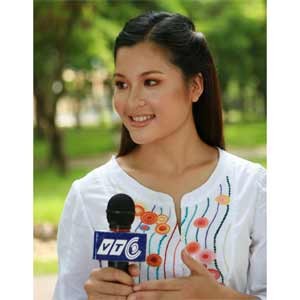 Le Thi Thu Huong - the representative of Vietnam Multimedia Corporation (Photo: Cat Tien Sa)
The annual talent competition for female TV employees will have two qualifying rounds on December 28 and 29 and a final night on January 2. All the rounds will take place at the Ho Chi Minh Television Station Stadium.
The competition for female TV employees, such as broadcasters, editors or MCs, allows them to demonstrate their charms, not only in appearance but also their ability to speak gently and fluently before an audience. They are also required to show their passion for their careers and their employers.
On the night of December 28, three events will be contested: an ao dai show, a local costume show and an introduction session, in which contestants will provide their personal details, their TV station and the sightseeing and cultural activities where they live or work.
On the second night, the contestants will complete two events: a talent show and an evening gown show. In the talent event, the contestants will display a talent, such as singing modern songs, dancing, telling stories, playing an instrument or singing 'cai luong' (a southern Vietnamese form of modern folk opera).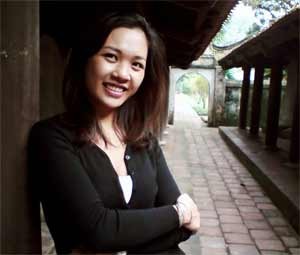 Vu Ly Ly - the representative of the Ha Noi Television Station (Photo: Cat Tien Sa)
On the final night on January 2, the contestant will have to complete in four events: an ASEAN costume show, a traditional dance while wearing an ao dai, recounting their most precious career memory and a question-and-answer session.
The organizers expect to hear some humorous and touching stories from the contestants as they talk about their working environment and career. In the question-and-answer session, the final three contestants will have to answer questions posed by science professor and PhD Tran Ngoc Them and Meritorious Artist Kim Xuan.
At the end of the evening, the name of the winner will be announced.
The final night will also feature performances from Edo Vilado and Mima Tantina from Indonesia, Putri Norizah from Brunei and Lee Ye Rang and Lee Sa Rang from Korea.
All 15 contestants will also perform in the National TV Festival 2009 in Nha Trang on January 6.
The "Charming TV Employee" has been held annually by the Ho Chi Minh Television Station and the Cat Tien Sa Media and Television Company since 2007. This year, the sole sponsor for the competition is Vietnam Soya Products Company, known as Vinasoy.