An overseas Vietnamese film director, Othello Khanh, has decided to make a film in Viet Nam. Interestingly, the story line is full of twists and turns that are reminders of "Truyen Kieu" (The story of Kieu), a masterpiece of Vietnamese literature, except the modern settings and contemporary intrigues.

It is a feature film freely inspired by "The Story of Kieu", the classic Vietnamese epic poem written by Nguyen Du in the early 19th century.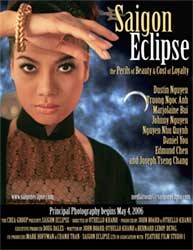 Poster of the film
Director Othello said that although the characters of his film are named Kim, Kieu, Trong Hai… and Kieu will also sell herself to save her step father, character Kieu is not a copy of the original.
Character Kieu of "Saigon Eclipse", who lives in the modern life, suffers a lot since she has to sell herself to save her step father.

"At first I meant to name the film "The story of Kieu", and then I recalled my visit to Viet Nam in October 1995. When I arrived at the airport, I saw a Vietnamese stewardess in her "ao dai", and at the same time the sky turned grey, just like in an eclipse. So I decided to rename the film as "Saigon Eclipse", says Othello.

The troupe intended to launch the film in many countries; thus, actors and actresses from many nations and territories were invited to take part in this film, such as Truong Ngoc Anh, Nhu Quynh (Viet Nam), Dustin Nguyen (America), Johnny Nguyen (America), Marjolaine Bui (France), and Joseph Tseng Chang (Hong Kong).

The director of Story Film Company 1 (co-producer), Mr. Tat Binh, said: "Everyone says that we're reckless, but I think we're brave".

Othello confessed that he was not confident when making a film in Viet Nam; thus, it took up to five years to prepare for the film. "After 11 years' working in Viet Nam, I just want to let the world know how I feel about Viet Nam. Whether it will be successful or not will depend on the viewers".

Shooting for the film is underway in Ho Chi Minh City.