The Who, a legendary British rock band kicked off the U.S. leg of their first world tour for more than 20 years on Tuesday. Despite forays into the 21st century, The Who seemed firmly rooted in the 1960s, an impression strengthened by nostalgic black-and-white videos of 1960s memorabilia and rock icons including Jimi Hendrix and Elvis Presley.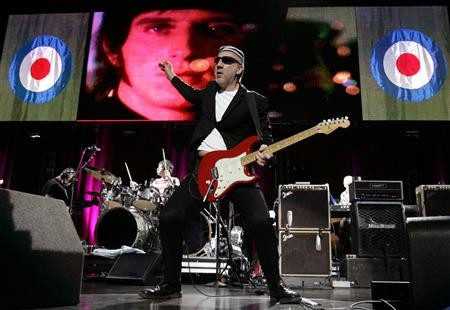 Original member Pete Townshend of British rock band "The Who" performs during the opening night show of their world tour in Philadelphia
Their first day took place in Philadelphia with a two-hour set that included a full complement of classic hits, a smattering of new material, and some rough edges.
The legendary British rock band which came to prominence in the early 1960s with songs about youthful rebellion and alienation has only two of its original members -- singer Roger Daltrey and guitarist and songwriter Pete Townshend.
Two other members of the original band -- drummer Keith Moon and bassist John Entwistle -- died in drug-related incidents.
The band, also consisting of Townshend's brother Simon on guitar, Ringo Starr's son Zak Starkey on drums, Pino Palladino on bass and John Bundrick on keyboards -- fluently delivered many crowd-pleasing anthems including "Won't Get Fooled Again," "My Generation," "Teenage Wasteland" and "Behind Blue Eyes".
But they were less confident playing material from the forthcoming "Endless Wire" album, their first since 1982. They were clearly unhappy with a seven-song "mini-opera" from the album, and apologized several times for what they saw as less-than-perfect renditions of that and other new songs.
The new material, such as the Dylanesque "Man in a Purple Dress" suggested a departure from the classic Who style and the concert featured two duets with just Townshend and Daltrey, providing a contrast to the high-volume rock that some critics see as a precursor to the punk rock of the late 1970s
The band's focus on their classic songs seemed to please the crowd, some of whom came to relive their college days. Bob Paul, 51, a lawyer, said he had first seen The Who in 1973 when he was a freshman in college, and stayed up all night to get tickets.
Source: Reuters
Other news
Famous Aussie Jazz Guitarist Performs in Viet Nam(Friday ,Sep 08,2006,21:04 GMT +7)
Three Young Men Win "Sao Mai Diem Hen" Music Contest(Sunday ,Aug 20,2006,18:20 GMT +7)
MTV Asia Plans Big For Viet Nam(Friday ,Aug 11,2006,10:34 GMT +7)
A Hundred Stars in "The Twinkle of Dancing Art"(Thursday ,Aug 10,2006,17:06 GMT +7)
"Immortal Foreign Songs" Concerts in ATB Music Club (Thursday ,Aug 03,2006,16:00 GMT +7)
Double trouble MTV jockeys to visit Viet Nam (Monday ,Jul 31,2006,09:27 GMT +7)
'Sao Mai Diem Hen' Music Contest Ends 1st Final Round(Tuesday ,Jul 25,2006,12:48 GMT +7)
Ca Tru Festival Held in Hanoi Opera House (Sunday ,Jul 23,2006,19:56 GMT +7)
Pop Diva My Linh Performs in Japan(Wednesday,Jul 19,2006,19:09 GMT +7)
Vietnamese-French Sopranist Alain Vu Performs In HCMC(Saturday ,Jul 15,2006,17:16 GMT +7)