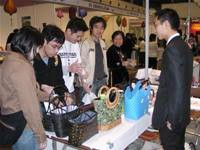 The Japanese visitors visit the Vietnamese counter.
On May 2, 2006, Vietnamese Embassy, Vietnamese Trade Commission in Japan and Viet Nam Airlines inaugurated the Viet Nam Festival, one of the activities within the framework of Osaka International Trade Fair.
According to Mr. Nguyen Trung Dung, commercial counsellor of the Vietnamese Embassy in Japan, the festival aimed to promote commerce, investment, tourism and Viet Nam's image to the Japanese market.
The festival is attended by more than 20 Vietnamese enterprises and artisans. Many items of handicraft, presents, clothes, ceramics and wooden furniture are displayed. On the opening day, there were thousands of visitors coming to the Vietnamese pavilions.
The Japanese are very interested in Vietnamese handicraft items and wooden furniture. Beside the display counters, the Vietnam festival also introduces cultural activities, such as cuisine, water puppet-show, Ao Dai fashion show, art photos exhibition about Viet Nam, which appeal to many visitors. The festival will last to May 5, 2006.
On this occasion, Viet Nam's Ministry of Trade opened the Vietnamese Chamber of Commerce in Osaka. The chamber is located in Room 406, Yamaguchikosan nagahori Bldg. 1-3-9 Minamisenba, Chou-ku, Osaka, 542-0081.
Related Link:

Embassy of Socialist Republic of Viet Nam in Japan