Thousands of people on Sunday streamed to district 5, Ho Chi Minh City, to watch a parade on Nguyen Tieu Festival that created a bustling performing arts spaceon the full moon day of the fisrt lunar month.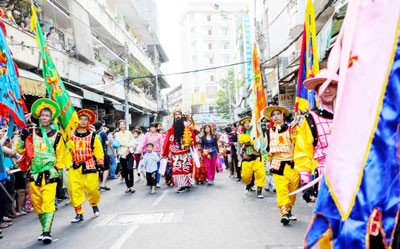 The parade of Nguyen Tieu Festival is held on the first full moon day that falls on February 24 this year.
This is a traditional festival that is hold every year on the fifteenth of the first lunar month that is also called the first full moon day.
This year the festival lasted from February 21st to 24th with the participation of dragon dancing groups, nearly 1,000 singers, painters, students and artists of Chinese language opera theater Thong Nhat, classical music theater Su Truc Hien, Chinese language music bands in cities.
After the parade artists displayed attractive musical programs including Chinese language operas that depicted a traditional ceremony Eight fairies offering congratulations for longevity, dances of festival drum, Peaceful Peacock, folk games and announcement of a lantern competition…
Nguyen Tieu Festival is a traditional festival of the Chinese community in Ho Chi Minh City.
The full moon day of the first lunar month in Vietnam is organized in different way. The Vietnamese held the festival like in the Buddhism. People come to pagodas this day to pray for world peace, family happiness and business success…