A traditional worshipping ceremony, known as the Xa Tac Devotion Ritual, was held in Hue City's Thuan Hoa Ward of Thua Thien Hue Province on April 8.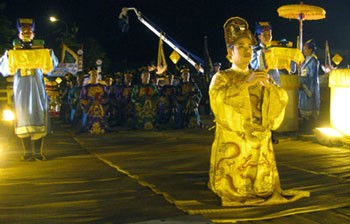 The Xa Tac Devotion Ritual is held to pray for national peace, safety for the people, health, wealth and a good harvest.  (photo:Sggp)
The time-honored ritual was organized as it would have been hundreds of years ago, aiming to honor the God of Land (Xa) and the God of Grains (Tac), as well as to pray for the prosperity of the country. 
A delegation of more than 500 people including the King together with mandarins, troops, Nha Nhac (royal court music) artists, horses and elephants in all manner of finery departed from the Thai Hoa Palace in the evening, accompanied by gongs, flags and torches.
The parade traveled down the streets of August 23, Le Huan and Ngo Thi Nham before arriving at the Xa Tac Platform at around 8 pm.
Three tables of incense were stationed along the parade route, with the attendance of hundreds of elders.
On two larger incense tables at the Xa Tac Platform, an offering of a buffalo, deer and pig were made.
The solemn worshipping ceremony then began at 8:15 pm and wrapped up at 10 pm.
At this year's event, 100 local elders were also in attendance, representing 100 family names from around the country.
After the ritual, thousands of locals and visitors gathered at the Xa Tac Platform to pray for national peace, safety for the people, health, wealth and a good harvest.
In 1806, the Gia Long King ordered the establishment of the Xa Tac esplanade to the west of the Hue Imperial Palace in Thuan Hoa Ward, now Hue City, as a place to worship the soil and rice gods.
A ceremony was then held twice a year by the royal court, in the autumn and spring, to pray for prosperity.