Tran Temple Festival in the northern province of Nam Dinh has attracted thousands of people since February 4, the 13th day of first lunar month of the New Year.
The five-day festival features solemn rituals and traditional cultural activities, along with sporting contests and activities such as a Trung cake wrapping contest, kite flying contest, cock fighting, martial art performances, wrestling, unicorn dance, sword dance, cheo and van singing, and much more.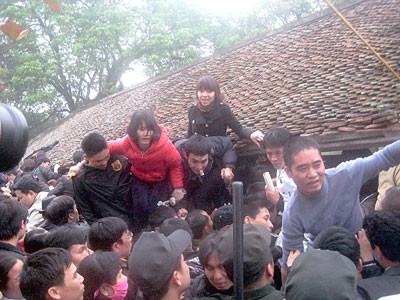 Crowds stampede to receive the sealed sacred paper at the Tran Temple (Photo: SGGP)
The Tran Temple Festival is held annually on the death anniversary of General Tran Hung Dao and soldiers who contributed in the fight against invading Yuan-Mongol armies during the 13th century.

The Tran Temple Complex is dedicated to the 14 Kings of the Tran Dynasty that ruled the nation from 1225 to 1400.
Every visitor to the festival hopes to receive a sacred sealed paper--called 'An Den Tran', said to bring good fortune in the New Year.
The annual event also aims to educate future generations on ancient history and the heroism of their ancestors and motivate them to build a strong and prosperous nation.
This year, the festival was attended by Deputy Prime Minister Nguyen Thien Nhan and Vice President Nguyen Thi Doan.

After the chairman of the People's Committee of Nam Dinh City paid homage to the Tran dynasty's great contributions to the nation, and declared the start of this year's seal issuance ceremony, people began to receive the 'An Den Tran'.
Many visitors came to the temple the night before to wait until dawn to be the first to receive the sacred paper from the Trung Hoa Temple at the Tran Temple Complex.
Though the organizing board announced the paper would be distributed at 7am, visitors began to receive the holy paper from 6.30am at the Temple.
Within 30 minutes of distribution, a stampede occurred in front of Giai Vu gates of the temple when hundreds of people pushed each other to grab the paper, with many people even climbing on top of the roof or entering through the windows.
At the site of the present Tran Thuong Temple, General Tran Hung Dao had established a granary for the army during the war. During the festival, local residents distribute food in his memory and also raise awareness among the younger generation on the importance of saving and stockpiling food for emergency.
Local residents and pilgrims from other regions flock to the festival each year to receive food parcels, considered a good luck charm during Lunar New Year.