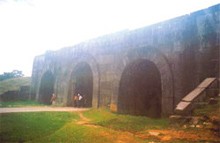 The remains of Ho Dynasty's citadel
Three stone busts have been found in Hon Moc area, believed to belong to the Cham (*). The site is near the remains of Ho Dynasty's citadel which is located at Dinh Tho hamlet, Hoa Dinh Dong ward, Phu Hoa District, Phu Yen province.

All the busts were buried about one meter underground. The first statue is 42 centimeters high, 45 centimeters wide. It is broken into four pieces, but none is lost. The second is of the same size, but undamaged. The third is 32 centimeters high, 27 centimeters wide, with its face being 17 centimeters wide. The lower half of the statue is lost.

According to Mr Phan Dinh Phung, Director of Phu Yen Museum, it was first time that this kind of statues which are made from gemstone, were found. They dated back to the 7th or 8th centuries, much earlier than all previous findings in the same locality.
(*)The Cham is one of 53 ethnic groups in Vietnam, has different names such as the Chiem Thanh and the Hroi. Their population is estimated at 140,000 and they mostly live in the four southern central provinces of An Giang, Binh Thuan, Ninh Thuan and Phu Yen. 
Source: http://www.travelsvietnam.com/attraction-detail.asp?