Three books of the 18-volume Ha Noi Encyclopedia including the 1,000-year Thang Long - Ha Noi Economy, Science and Technology, and Science, Society and Humanity have just been released by the Ha Noi Union of Science and Technology Association and editorial board of the collection.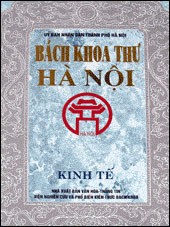 The 1,000-year Thang Long- Ha Noi Economy.
The manuscripts of 15 remaining volumes were finished and are expected to launch in 2007. The editorial staff hopes to receive contribution from the public to perfect the encyclopedia.
The Ha Noi Encyclopedia was compiled by 200 scientists, researchers and cultural experts in 14 years. It is considered as a cultural project to celebrate the 1000th anniversary of the Founding of Thang Long-Ha Noi (1010-2010) and introduce Ha Noi's achievements throughout 1,000 years.
The collection has contributed to the enhancement of the cultural standards of the people, educating the traditional culture and history, and serving the renewal task of the local and overseas Vietnamese.