Thua Thien - Hue authorities have just received 105 calligraphies representing China's Han version of 105 of Uncle Ho's "Prison Diary" poems by the calligraphy master Lo Nguyen, honorary President of the Institute of Modern Chinese Calligraphy.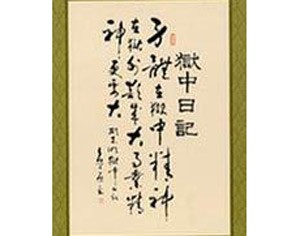 A calligraphy of Uncle Ho's poem

The "Prison Diary" is one of the most renowned literary works of President Ho Chi Minh, who is affectionately known as Uncle Ho.
After being arrested by Chiang Kai-Shek's local authorities, he was kept in a Kuomintang prison in Guangxi, China. During that time, Uncle Ho composed famous poems in his collection "Prison Diary" in classic Chinese. The collection consists of more than 100 politically and ideologically orthodox poems exposing the brutal regime of the Chinese prison system under the reign of Chiang Kai-Shek, and expresses President Ho Chi Minh's determination in pursuing his dream of striving for national independence.

The calligraphies were given to Thua Thien Hue authorities by Mr. Nguyen Viet, a cultural researcher, through the Talent Development Center.