The specialist ao dai designer Thuan Viet arrived in Osaka, Japan on Friday for five days of fashion shows and cultural goodwill in the Land of the Rising Sun.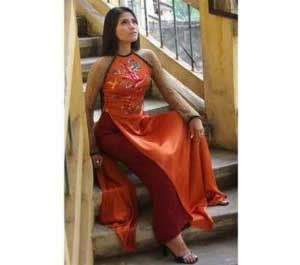 A design of Thuan Viet's "Crane's Dance" collection.
Mr. Viet is presenting three collections - "Oriental Pearl", "Viet Nam Spirit" and "Crane's Dance" - containing 27 designs of the traditional outfit.

His ao dais are primarily made of silk and velvet and are elaborately embroidered to create a synthesis of modern and ancient decorative patterns.

"I'm honored to be chosen to show my collections in Japan," Thuan Viet said before leaving Vietnam. "I am taking my best works featuring typical Vietnamese characteristics to bring out the charm of Vietnamese women."

His Japanese sojourn is being sponsored by Vietnam Airlines and Elite Model Viet Nam.