Tran Thi Thuy Dung, Miss Viet Nam 2008, won't be allowed to take part in this year's Miss World pageant in the South Africa, said Mr. To Van Dong, spokesman of the Ministry of Culture, Sports and Tourism.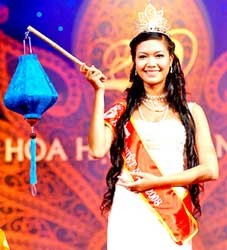 Miss Viet Nam 2008 Tran Thi Thuy Dung
Inspectors of the Ministry of Culture, Sport and Tourism talked with the management of Miss Viet Nam concerning Miss Thuy Dung's situation.
Elite Viet Nam, which selects a Vietnamese candidate for Miss World, is still waiting for an official ministry decision, said Ms. Nguyen Thuy Nga, the company's director. The company has sent a list of nominees to the Ministry of Culture, Sports and Tourism.
Miss Dung dropped out of Quang Trung High School during the first semester of her senior year, according to the Department of Education and Training of the Da Nang City. The headmaster of Quang Trung confirmed that she gave up school.
The Miss Viet Nam pageant was not at fault, Mr. Duong Xuan Nam, chief organizer of the pageant, told reporters a press conference. In the documents she submitted, Miss Thuy Dung stated that her learning was at a high school level, Mr. Nam said. Since she did not claim that she graduated, she did not cheat the organizers, he added.
 
So where did Miss Thuy Dung get the dubious diploma which was submitted to the pageant? Authorities in Da Nang will investigate this matter further.