Tickets for the 3D version of the science fiction film "Avatar" written and directed by James Cameron were fully booked for the premiere in Vietnam on December 18, said ticket office staff at Megastar cinemas in Hanoi and Ho Chi Minh City.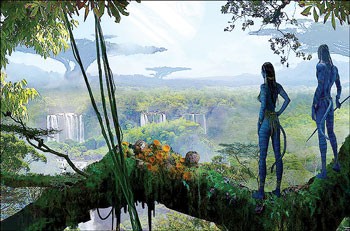 A scene in the "Avatar"
Costing VND80,000-100,000 (US$4-6), the 3D tickets have sold out for screenings in Vietnam from now until December 29. Cinemas now have tickets left for 2D showings only.
Megastar Cineplex says it hopes to earn US$1 million from box office sales nationwide.
The film produced by Lightstorm Entertainment and distributed by 20th Century Fox cost US$250 million to make.
"Avatar" is Oscar-winning director Cameron's first dramatic feature since the record-breaking "Titanic" back in 1997. The new film is a science-fiction fantasy set on a verdant planet called Pandora and follows the adventures of a US Marine played by Sam Worthington.

The famously perfectionist director first came up with the concept for "Avatar" 14 years ago but decided not to make the film until technology was advanced enough to enable with his vision.

At once stunning and rousing, the picture is regarded as the most ambitious 3D film ever to appeal to a worldwide audience.