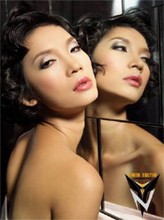 Model Xuan Lan
Top 25 models, Xuan Lan, Ho Ngoc Ha, Ngoc Thuy, Binh Minh, etc will show off collections of famous designers: Cong Tri, Thien Toan, Thanh Phuong in "Classy Fashion" show at Park Hyatt in July in Ho Chi Minh City.
"The show is not aimed to introduce the collections of famous designers. It will be a place where well-known models can relived the previous glorious time on catwalk", model Xuan Lan, head of the fashion show, said.

The show will also raise fund for the Typhoon Chanchu's victims in the central provinces and children suffering from heart disease.