The country's biggest annual fashion design competition, Viet Nam Collection Grand Prix, is back to give young designers at home and abroad the chance to be discovered.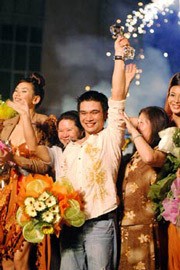 Lam Hong Phuc, winner of Viet Nam Collection Grandprix 2006.
This year the theme is "Space" and what the judges will be looking for is a combination of the modern and the traditional. Individuals and teams can enter up to five designs.
Beside the Grand Prix award, young designers-to-be will be vying for the titles of New Designer, Koshino Junko, Designer of the Year, Avantgarde, New Discovery, New Image and New Impression.
The organizers of the annual contest are the Vietnam National Textile and Garment Corporation, the Fashion Design Institute (Fadin) and the magazine Mot (mode).
Entries must have reached Mot by June 30, either at 41 Ben Chuong Duong Street, District 1, Ho Chi Minh City (Tel: 9257898) or 5th Floor, 25 Ba Trieu Street, Ha Noi (Tel: 8252305).