People's Artist Dang Thai Son will return home for a piano performance at the Ho Chi Minh City Opera House on January 26.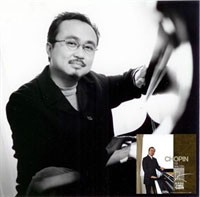 Pianist Dang Thai Son
The concert is part of a series of activities celebrating the 200th birthday of Polish music genius Frederic Chopin.
Ten years after Son's last performance in the city, HCMC music lovers can once again enjoy classical works by the world-renowned pianist.
The show also marks the 30th anniversary of Son's career launch.
Born in Hanoi in 1958, Son studied piano with his mother for 11 years at the Hanoi Conservatory before moving to the Tchaikovsky Conservatory in Moscow in 1977.
In 1980 he was awarded top honors at the Tenth International Chopin Piano Competition in Warsaw, becoming the first Asian to win the prestigious contest.
Son has performed in more than 40 countries including the US, Britain, France, Germany, Austria, the Netherlands, Japan and Australia.
He now lives in Montreal, Canada, where he teaches part-time at Montreal University when his busy concert schedule allows.