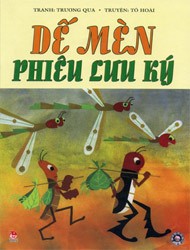 The Advneture of a Cricket
Kim Dong Publishing House recently celebrated the 65th anniversary of The Adventure of a Cricket, the top-selling children's book by To Hoai, one of Viet Nam's most famous authors. Written in the 1940s, the novel has been reprinted a record-setting hundred times and been translated into a score of languages.
From generation to generation, millions of children have been captivated by the enchanting tale of the trials and tribulations of a cricket and his interactions with the insects around him. It was the author's first published work.

To Hoai went on to write many stories about animals after the immediate success of The Adventure of a Cricket, which reads like a reference book of the insect world with its crickets, beetles, grasshoppers, locusts, bugs, scorpion flies and other six-legged creatures too numerous to mention.
Before putting pen to paper, To Hoai scrupulously observed and researched his subjects and characters.

Says the author: "It's part of my childhood. The setting is based on Nghia Do, a village on the edge of Ha Noi. The cricket, my main character, has his adventures along the tiny To Lich River, which crosses one end of my village. For seven years I walked to school along a 14-kilometer path by that river.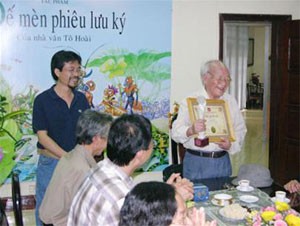 Writer To Hoai (R) at the anniversary
"But it's more than just about me. The book reflects the thoughts and opinions of young Vietnamese people everywhere, the stirrings of revolution and the dreams of a stateless and classless world.

"I am writing another story for children at the moment. It's about a greedy tiger who has an awful toothache and must depend on a tailor bird to pick his teeth.
"And a book for adults called Three Others will be published by Da Nang Publishing House in the coming time."

The Adventure of a Cricket won't be restricted to the novel form much longer. Kim Dong's editorial chairman, Nguyen Thang Vu, says his firm and a 3D computer graphics company are getting together to turn the book into a cartoon film and a series of picture books.

To Hoai was born in 1920 into a family of craftsmen and women and was a guerilla fighter in the war against the French colonialists. Besides The Adventure of a Cricket, his best known works include Vu A Dinh, Poverty, Poverty and A Phu couple.