The Khmer community in the Mekong Delta province of Tra Vinh is gearing up for the Sene Dolta, one of their biggest annual festivals scheduled for October 3-5.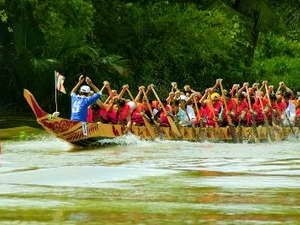 Illustrative image (Source: VNA)
It is held to commemorate their ancestors, and to wish blessings to family members. An array of musical and sporting events will also take place at pagodas and temples.
On the first day, each family tidies up the house and makes offerings to their ancestors at the altar. On the second day, they will invite ancestors' souls to the pagoda with them to pray to Buddha.
Families prepare meals and fruit on the final day like on the first day to worship their ancestors and say goodbye to them. When the rites finish, the festival also ends.
On the occasion, provincial authorities visit and present gifts to families of war heroes and heroic Vietnamese mothers.
Tra Vinh now has a population of over 1 million, nearly 30 percent of them Khmer people. Over 40,000 poor families have so far been supported with housing and thousands of others have been given access to vocational training and production land.
While in the southern province of Vinh Long, the Southwestern Steering Board led by its deputy head Duong Quoc Xuan on October 1 visited and extended greetings to Phu Ly 1, Dai Tho, Can Thay and Hanh Phuc Trang pagodas, the Patriotic Clergy Solidarity Association and six local Khmer households.