Bac Ha District in the mountain province of Lao Cai in northeastern Vietnam is famous for its specialty food as well as its tradition of racing pack-horses.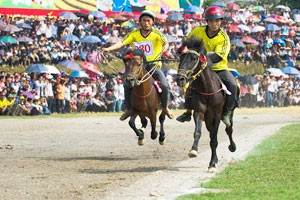 Two horsemen attempt to overtake on the race-track
Participants in the horse-racing are the local farmers. Although they aren't professional horsemen, they are experienced in the art and select good horses and care for them as they prepare for the races.

Thao Seo Lenh, who has participated four times, said that any rider expecting to enter the races needs to choose the right horse that is good in both tilling and as a pack-horse.

The best horses are of age five to eight with great height, tapering legs, white teeth, smooth backs and thick manes.

Riders usually rest their horses for three to four days, isolate and feed them with nutritious paddy, corn and soybean before an upcoming race.

According to Lenh, a rider often sits near the horses' shoulders in order to allow greater speed and coordinates well with the horse at every gallop.  

Not just the riders, many other inhabitants of Bac Ha are very knowledgeable about horses. Giang A Vang, for example, can not only predict exactly the achievements of the horses in the race but also knows many traditional remedies to cure sick horses.

"Horses often get pneumonia. They need to drink a mixture of crushed dried cardamom and spring water three to four times a day to recover," said Vang. 

Equipment used in the races is simple. Riders wear normal helmets and a piece of brocade cloth is laid on each shoulder of the horse, instead of a harness.

The riders control their horses with long leather bands fastened to the horses' jaws, instead of whips.

These races are not just an exciting sport but hold a deep traditional meaning. They are an occasion for local people to demonstrate sportsmanship and gather together to show off their colorful brocade cloth, drink corn wine and eat their specialty dish, made from horse meat.