Bai choi, a folk game that originated in the central region, has recently attracted many foreign visitors in the ancient town of Hoi An.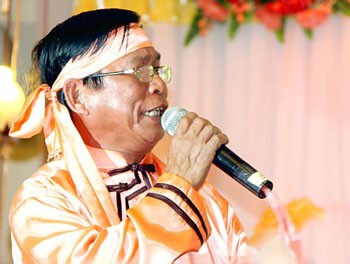 Artist Luong Dang
Local authorities have organized free courses at the Hoi An Culture Center to restore and preserve this ancient game. All the course classes are popular with many young local people as well as international tourists from Japan, Switzerland, Germany, Australia and France.
Artist Luong Dang, one of the most famous Bai choi artists in the country, runs the courses. He learnt the folk game at an early age of 8 years. He has a treasure-trove of thousands of bai choi songs from his 30-year career in this art form.
He has studied northern folk music and cai luong (Southern amateur music) which he mixes with bai choi songs.
Bai choi, singing and playing cards, is an ancient traditional activity during Tet season in the central region.

For a small amount of money, players receive a bamboo card. On the card is a traditional ideograph, which has a specific name. To start the game, the MC lifts his or her bamboo vase of sticks and pulls one out. He or she then recites a poem or sings a folk song. The last word of the song suggests the name of one of the cards the audience has picked. Players with the right card receive a small silk flag. After nine songs, if you have a card with three right names, you become the winner.