The Traditional Handicraft Festival - Hue 2007 has this year been given the title, "320 years of Phu Xuan Hue – Traditional crafts, characters and development". The festival will take place from Jun 8-10 in honor of traditional crafts in Viet Nam's ancient capital.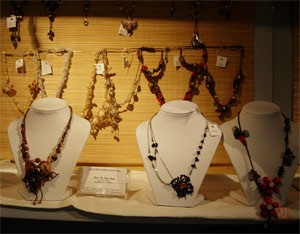 The jewelries are handmade. (Photo:KK)
The traditional crafts exhibited at the festival will include carvings, bronze-castings and jewelry, with the various craftsmen/women on hand to demonstrate their skills during the festivities.

The exhibition will include collections of silverware, bronze tools and jewelry from individuals nationwide, Hue royal antiques and other antiquities discovered in the Huong River.

During the festival there will also be game shows aimed at teaching visitors about the history of Hue and other cultural activities, such as the parade of over 500 cyclos, which aims to attract both local and foreign visitors.