Deputy Prime Minister Vu Duc Dam has just instructed that Vietnam will join the compilation of a multinational dossier to seek UNESCO's recognition of the traditional craft of "son mai" (lacquer) as part of the world's intangible cultural heritage.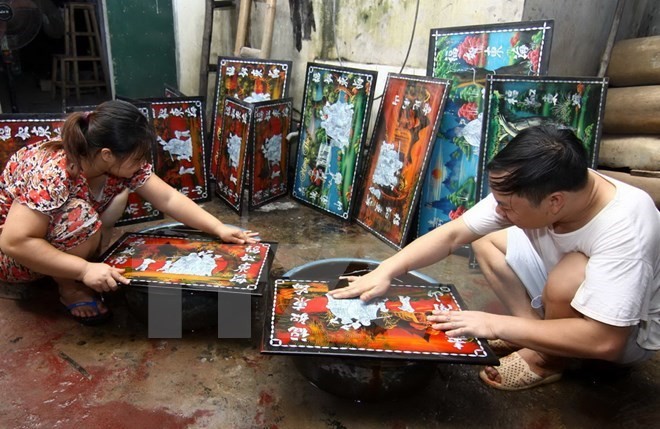 Final touches are put on lacquer paintings (Photo: VNA)
The Deputy PM assigned the Ministry of Culture, Sports and Tourism (MCST) to be in charge and work with relevant ministries, sectors and agencies to join the Republic of Korea (RoK) and other nations that boast traditional lacquer techniques to design the dossier and ask for the Prime Minister's permis sion to seek the UNESCO status.
On September 16, 2015, the RoK's Cultural Heritage Administration sent a letter to the MCST to ask for coordination in building a multinational dossier seeking UNESCO's recognition of the art of lacquer as part of the representative list of the intangible cultural heritage of humanity.
The ministry cited the RoK as saying that China and Japan could also join in the compilation.
Vietnamese "son mai" is a traditional handicraft first used during Vietnam's feudal era. Son mai painting has evolved over time, especially during the 1930s when artists and students at L'Ecole des Beaux Art d'Indochine (Indochina Fine Arts School) resurrected the medium, fusing it with French techniques and positioning it as a fine art.
The medium gets its name from sap extracted from the "son" tree that inhabits the mountains of the northern province of Phu Tho.
If permission is given, this will be the second time Vietnam will have joined in the compilation of a multinational dossier.
Previously, Vietnam coordinated with Cambodia, the RoK and the Philippines to build a dossier for the tugging rituals and games (a tug-of-war ritual practiced as a prayer for a good harvest), which was added to UNESCO's Representative List of the Intangible Cultural Heritage of Humanity in 2015.-VNA